Please do a chest press correctly!
You might be asking yourself why is she bringing this up? I actually saw a gentleman (idiot) bouncing his elbows off the floor as he was raising the weights up and over his chest.  Please don't do this!!!  
Exercise of the week
Chest Press on a Stability Ball
·        Hold your dumbbells (10's, 12's, 15's) as you roll into bridge position
·         Bridge Position=
1.) Head, Neck, & Shoulders resting on top of ball (like your laying on a pillow)
2.) Glutes squeezed together and rise up like your body is in a "bridge" like position
·        Hold weights with palms facing out, knuckles parallel with forearm
·       Elbows parallel with the floor and level with your shoulder, push weights up at chest level
·      IMPORTANT NOTE=don't let arms fall below shoulder, you don't want arms to fall and touch bench or ball
Targets= Chest, Shoulder, Glutes, Hamstrings & Core muscles
Falling below the bench/ball can tear the anterior deltoid and surrounding ligaments
Here is a nice looking brotha to show you good form......
Here is how your arms should look when in the parallel position......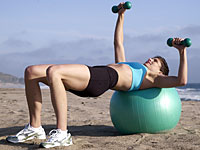 To amp this up.....place your feet together and stay in the bridge position!  Your back muscles will start cooking.  Make sure you knees don't go beyond the toes, see how her knees are are above her ankles?
...I'm glad I got that off my chest.