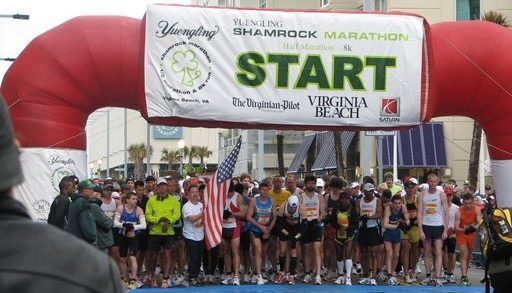 John and I have been setting up little surprises for each other lately.  His was a Smith Mountain Lake retreat.  It was memorable to say the least.  Well it was my turn to give the hubby a little surprise.  I talked about "the surprise" all last week, really hyping it up, but secretly realizing it would never match up with the SML retreat.  Well on Saturday night, we sit down to a lovely evening of Fox News, homemade buffalo wings, & "the surprise".  I gave him a lovely card, saying.......(I'm not telling ya'll everything)........and a entry to the Shamrock 1/2 marathon! The gift that keeps on giving, or something like that.  Isn't a running entry what every man wants from his wife?  He was a sport, "Gee, Honey, Thanks." 
So watch out when Mr. & Mrs. T along with Bob, Penny, .... run the Shamrock, March 2009.
Did I do good or what?