Well it's official, I've signed up for the four races I plan on doing in 09.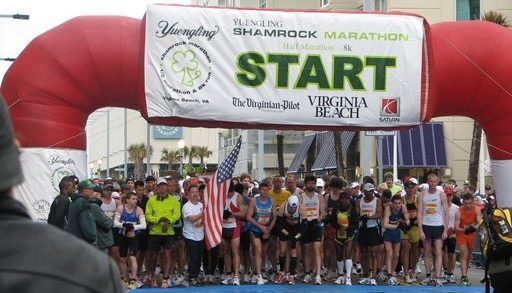 March~Shamrock 1/2 Marathon
This one is going to be special because my husband will be running his first road race ever.  I'm hoping to PR 2:00, I know that's an 18 min hop from the last PR but I think I can do it.
May~Smith Mountain Lake Sprint Triathlon
This is also a race my husband and I are doing together.  This will also be his first triathlon race.  Do you people see a trend here? (yahoo)
I've been looking forward to this race for over a year and half.  I can't wait, I'm a little nervous about the heat & humidity for a June race but I just want to finish.  I'm not really looking for a specific time just want to have a great race.  I can't wait to share all my training stories.  My blog will be a good outlet for all the ups and downs I'm sure I'll experience.
September~The Nation's Triathlon, International Distance
This one is sort of new and exciting.  A friend turned me on to it and I thought, "why not."  This will be a great race to finish out the 09' season.  My husband and I will be doing this one together as well.
Now if I win the lottery.......
October~IronMan Hawaii, the "BIG" One!
(stop giggling, it might happen one day)
Comments?